Aromatherapy with a Twist of Energy!
Sovereign Light Emotional Sprays
Drawing on quantum energy and gemstone vibrations to soothe the mind, body and soul. Every thought and feeling expels energy into your energy field. Sovereign Light Sprays are designed to clear stale emotional energy from your surroundings and away from your body. Formulated by healer, KumariDevi (PaulaMuran) with three decades of experience in Energy Medicine.
Philosophy
Your skin is the largest organ and through the skin an emotional energy vapor is expelled into the environment from your feelings and thoughts. Have you ever walked into a place and couldn't wait to leave? Or visited a church, attended a retreat or yoga class and wanted to stay forever? This energy is created by thoughts of the people present. The sprays clear your energy field and you stay more grounded, relaxed and less stressed throughout the day.
How Do the Sprays Work?
Energy and aroma join together to create a powerful emotional healing spray. Each spray has its own aroma (essential oil blend) and gem elixir base. Sovereign Light is a healing system, not just an ordinary room or body spray. Each spray has a specific task to either clear "stuck" energy or to enhance "positive" energy. 

My astrology study group had difficulty understanding some aspects. I picked up Clearing Confusion and misted around the entire group and suddenly everyone got it!" Teri. S., Virginia
Benefits
Feel happier, more alive and balanced in your body with just one spritz!
Splendid for clearing fear and confusion
Heavenly for prayer, meditation and yoga
Superb for balancing and releasing stress
Instantly change your energy and the people around you with Sovereign Light Emotional Sprays.
Selection Process
The best way to select the sprays is to allow your own intuitive wisdom to guide you rather than smelling the aromas. New to emotional sprays? Tap into your feelings right now. What do you feel?
Enjoy Immediate Results!
Free E-Book
Creation Process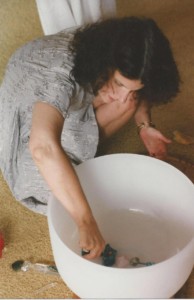 Paula creating crystal layouts used in the gem elixirs and emotional sprays. circa 1991
Crystal Layout
This layout was created for a Divine Feminine workshop in Albuquerque circa 1994
SAVE 10% TODAY. Emotional Sprays are $22.98 each and come in 2 oz size. Click on the link below to learn more and purchase. Use up to four sprays daily. Mist around you, into your surroundings and around pets. Enjoy Instant Results!

Need Assistance
Can't decide what sprays you need. Let KumariDevi (Paula) select for you. Indicate how many sprays you want. Tune-in fee is $20.00 plus each spray is $22.98.
"After I placed the order online I noticed a shift took place within me. I know that I'm always changing but this was fairly dramatic — I felt a release of my fears. I've ordered from you and spoken to you so many times but never experienced anything significant like this."
"I love using the sprays. I put them in a box near my front door and select one or two blindly before I leave the house. It's always perfect to what I'm thinking and needing at the time. Thank you!"
"I use Balance spray every morning before leaving to go to work. I am the calmest I've been in a long time."
"Today I was using Protection spray on myself and my sister in Hawaii and we both instantly felt cleared and back to ourselves."
"Immediately after I used Abundance spray I received an email that said I won a drawing. Thanks!!"
"The sprays have made a tremendous difference in my continuing journey to enlightenment."
"Sovereign Light has supreme intelligence. Trapped emotions release and I am happy and more relaxed."
"The results have been AMAZING!!!"
** Please note if you see the domain name paulamuran.com with the shopping cart it's us. We are in the process of shifting shopping carts and domain names.